Located on Florida's Atlantic coast, Vero Beach is a cozy beach town with a lot to offer. Just an hour and a half from Orlando, this destination is known for its beautiful sunrises, its extensive history in the citrus industry, and its bounty of botanic gardens and wildlife shelters. If you're looking at homes for sale in Vero Beach, you'll need to know more than just where to park your umbrella in the sand and how to interact with the local flora and fauna. Vero Beach also offers a variety of delicious dining spots just waiting for you to discover them. From beachside seafood places to boutique wineries, Vero Beach has a little something for everyone.
The Tides
We'll start our list with one of our favorite spots along Cardinal Drive.
The Tides
is an upscale American restaurant with an intimate dining room and the freshest ingredients. Sample dishes from their tasting menu or dive into one of their fabulous entrees. Their crab cakes, grouper, and swordfish are particularly good, and servers are quick to suggest the best wines to pair with your meal. Anyone visiting the Tides should know that reservations are required as the restaurant fills up fast. The Tides is open from 5-10 p.m. Tuesday through Saturday.
Citron Bistro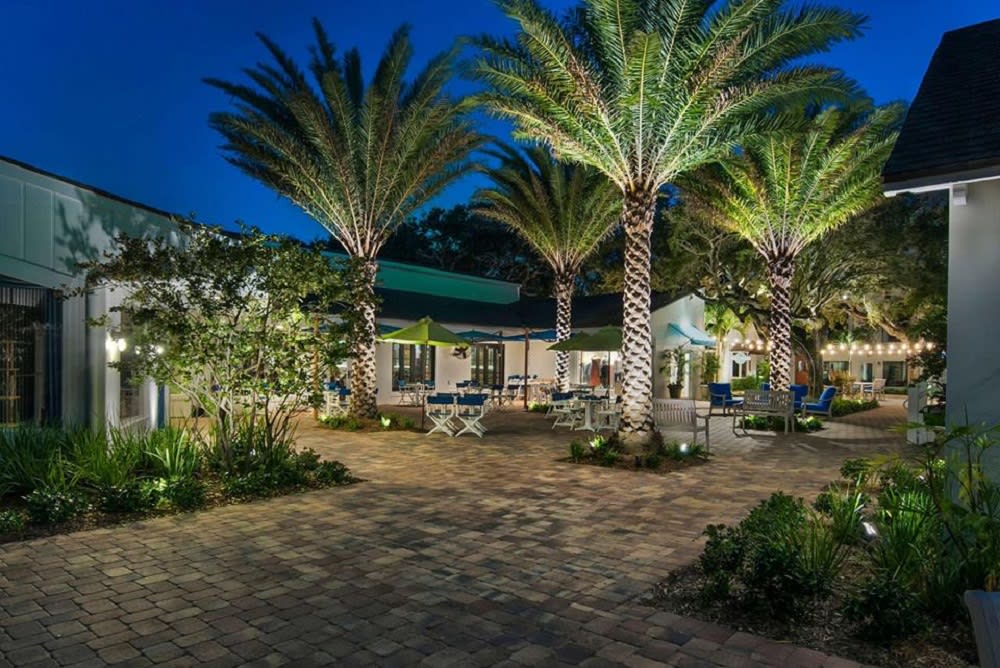 Photo courtesy of 772area.com
Located in the Village Shops off the
Florida A1A
is
Citron Bistro
, a beautiful New American dining spot with live music and a charming atmosphere. The outdoor patio is where most like to dine, especially on cooler nights in the fall. You'll find classic seafood options like mussels and red snapper alongside delicious quinoa and cranberry salads, burgers, and sandwiches. Anne's personal favorite is the kale salad with blackened salmon on top. Citron Bistro is open Monday through Saturday from 11 a.m to 3 p.m. and again from 5 p.m. to 8 p.m. On Sundays, the spot is open from 9 a.m. to 3 p.m. and again from 5 p.m. to 8 p.m.
Ocean Grill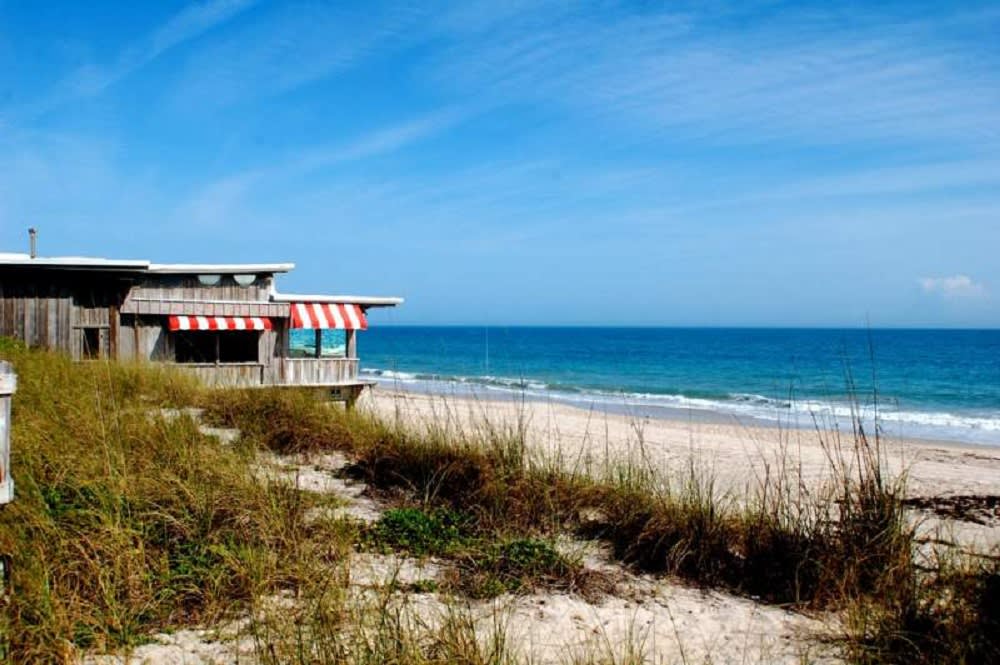 Photo courtesy of Ocean Grill
Built from a repurposed officer's club,
Ocean Grill
is on Beachland Boulevard and, as the name suggests, provides patrons with beautiful seaside views. Dine in style at this light, airy restaurant which is known for its fantastic steak and seafood. Dan's personal favorite is the Cajun Grouper dish. Fun cocktails like their pear martini and striking flavors like the bleu cheese spread keep locals coming back for more. Try the grouper sandwich for lunch or the crab au gratin for dinner. After dinner, walk down to Humiston Beach Park to relax as you listen to the crashing waves. Ocean Grill is open for lunch from 11:30 a.m. to 2 p.m. Tuesday through Saturday and reopens for dinner at 5 p.m. On Sundays, the restaurant is open from 4:30 p.m. to 9 p.m.
Vinz
Next on our list is
Vinz Wining & Dining
, a chic winery with a great tapas menu and live music. Locals love the upscale feel of this charming spot, where you can sit out in the covered courtyard and soak in the peaceful tunes. The cheese and charcuterie starter is perfect if you're dining with friends and family. Vero Beach residents love the Baja fish tacos, Mediterranean flatbread, and the ham and brie panini, as well as the selection of more than 50 wines. Or, there's the champagne and raw bar, which is perfect for those who want more upscale options like oysters and caviar. You'll find Vinz in the Pelican Plaza off the
Florida A1A
. It's open from 5 p.m. to 9 p.m. Monday through Friday.
The Citrus Grillhouse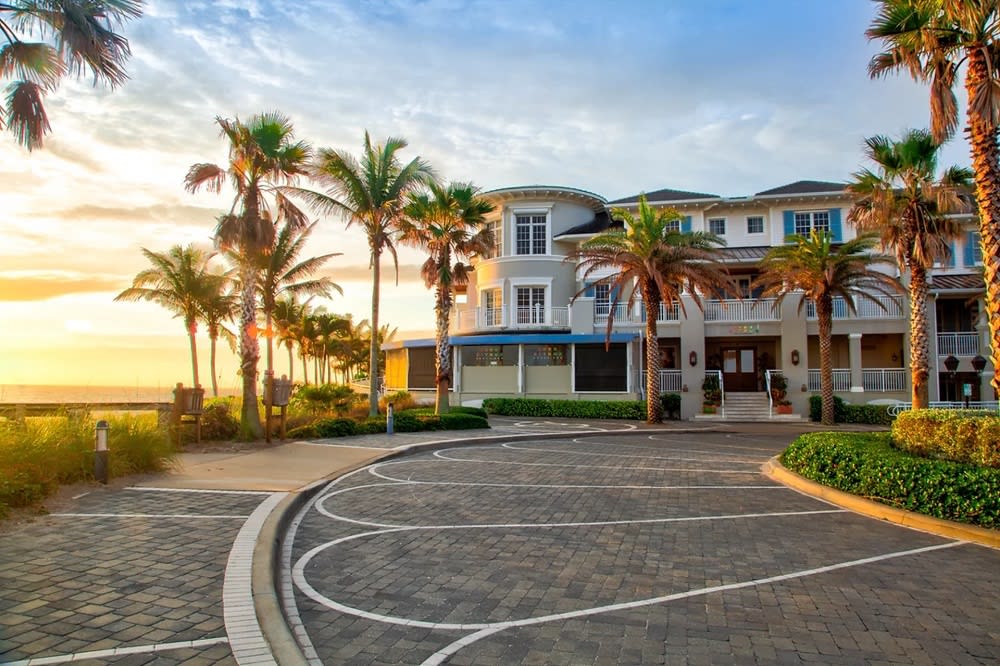 Photo courtesy of the Citrus Grillhouse
Many homes for sale in Vero Beach are steps from
the Citrus Grillhouse
, one of the best waterfront restaurants in the city. With an upscale yet laid-back ambiance, Citrus serves American fare with an emphasis on fresh seafood. Stunning views await all who visit Citrus to try their 12 oz. prime burger or famous butter truffle fries. The red snapper, beet salad, and ribeye are other top picks. Anyone investing in Vero Beach real estate should keep their eye out for properties that put them within walking distance to Easter Lily Lane, where they'll be able to dine at Citrus regularly. The restaurant has lunch and dinner hours, open from 11:30 a.m. to 1:30 p.m. and again from 5 p.m. to 8:30 p.m. Monday through Saturday.
Post and Vine
When you're shopping for Vero Beach real estate, take a night off to eat at
Post and Vine
, an inviting American restaurant with a romantic outdoor patio. Loved for its large bar and great cocktails, Post and Vine is dedicated to pairing flavorful food with impeccable service. By putting the customer first, Post and Vine have quickly become a local favorite. For a starter, try the cheese goddess portabella or Jennie's black bean hummus. Post and Vine have a selection of soups, salads, and entrees to choose from. If you're not sure what to choose, try the grilled mushroom meatloaf or the P&V burger. Located on 14th Avenue, Post and Vine is open every day at 4 p.m.
Take-out spots
For nights when you'd rather stay in, Vero Beach real estate is minutes from a handful of fantastic options for take-out.
Ryder's Gourmet Market
on Cardinal Drive has a wide selection of cheese and wine as well as lunch and dinner options. Try the chicken pot pie, wagyu beef stroganoff, or the grilled chicken teriyaki. If you're in the mood for pizza, order from South Beach Pizza on Ocean Drive, known for its relaxing beachside location and build-your-own pie options. Or, there's
Garage Pizza
on 7th, which features wood-fired pizzas made from scratch.
Sumo House
has the best Thai and Japanese take-out in Vero Beach while
El Sid
is the go-to for all things Mexican food.
The best dining spots in Vero Beach combine fresh ingredients, top-tier service, and a welcoming atmosphere. If you're interested in finding out more of what Vero Beach has to offer as a destination for your vacation home, work with a professional realty team like Anne and Dan, cousins whose family has been part of the Vero Beach community for more than four generations. Since joining forces, Anne and Dan have been consistently listed among the top realty teams in the state of Florida, accumulating over $150 million in sales for their clients. When you're ready to find out more about the homes for sale in Vero Beach,
reach out to Anne and Dan
.